Ebay nightmare seller dmrpoohbear.....
This blogpage is feedback of an unfortunate ebay transaction I had with member 'dmrpoohbear'.
Never mind the delays and details of the transaction, but I'm going to talk about the way this toy collector treats his toys and shipments.
The items from the transactions and seller's original description (note the statement 'mint in package'):-
SPAWN-CLASSIC-SERIES#17MIDIEVEL SPAWN II MINT N PACKAGE
SPAWN-CLASSIC-SERIES 17 MALEBOLGIA II MINT IN PACKAGE
SPAWN*CURSE*SERIES 13**JESSICA PRIEST+MR,OBERSMITH**MIP
SPAWN*SPECIAL BOXED EDITION*DESICATOR*SERIES 13*MIP*
SPAWN*SPECIAL BOXED EDITION*CY-GOR 2*SERIES 12*MIP*
SPAWN*TECHNO SPAWN*SERIES 15*CODE RED*MIP*
SPAWN*TECHNO SPAWN*SERIES 15*CYBER SPAWN*MIP*
Seller offered to loosen the items for lighter shipping and promised to pack them well. Here's what he means :-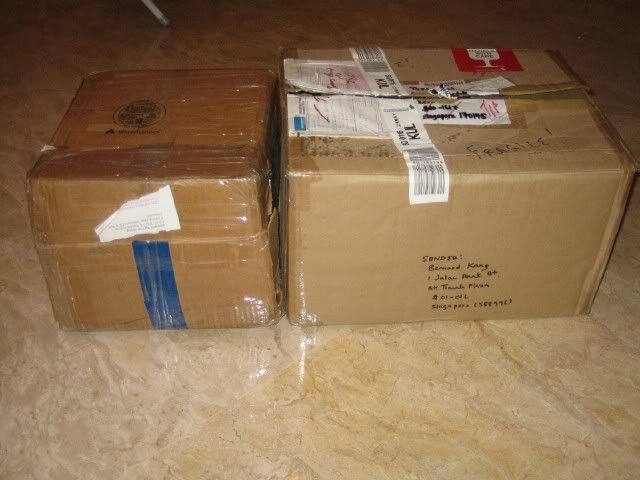 The box on the left is the shipment. The box on the right is an example of bigger boxes which came from USA, without problems. Bigger boxes than the one on the right made it through eg. from bigbadtoystore, etc. Seller claimed postal office do not allow any bigger than his box size. (???)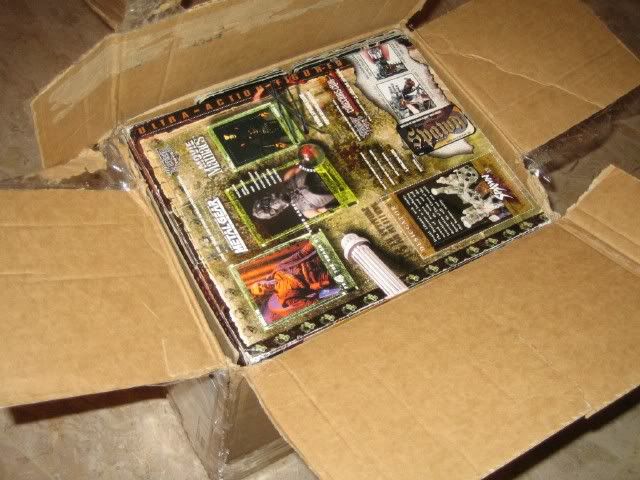 Upon opening, clearly there was no padding or protection between the box and the items inside ie. definitely prone to any knocks and wear/tear of postal service. Notice the wear/tear at the sides and corners of the toy box.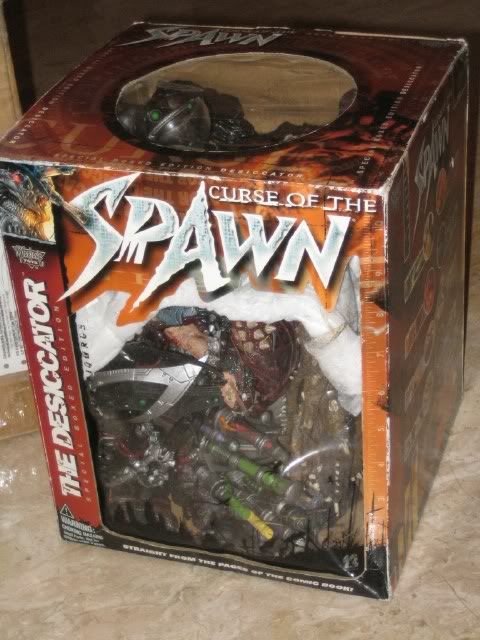 Major shocker!!!! All the loosen items are cramped up inside this box set packaging!!! This is the work of an irresponsible toy collector or individual who had no common sense. Notice the condition of the toy box.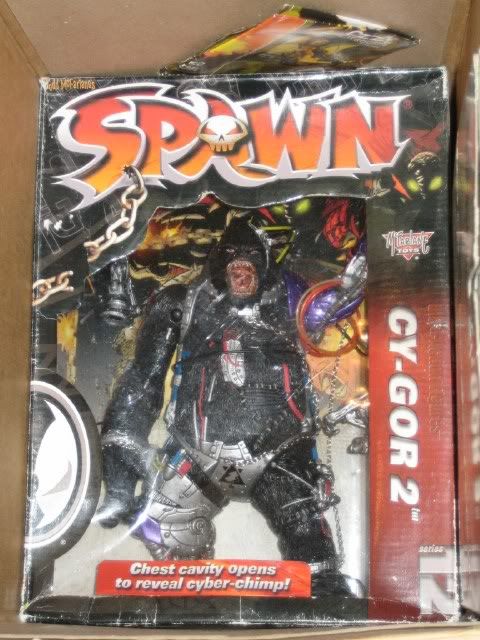 The only item that wasn't loosen which was under the previous mass of plastics. Notice the bad condition of the packaging ie. sunken plastic, worn out corners and sides.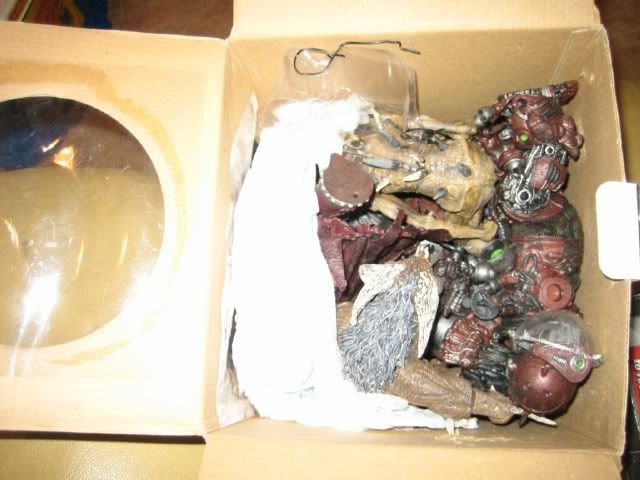 Upon opening the earlier shocker, it's clear that there are still plenty of space for the toys to move around. The only padding ie. a baby diaper!!! At this point of time, I even dreaded to see baby poo when I started unloading the items slowly from the box.... that was how bad I was feeling. Newspapers would have suffice and helped provide better padding.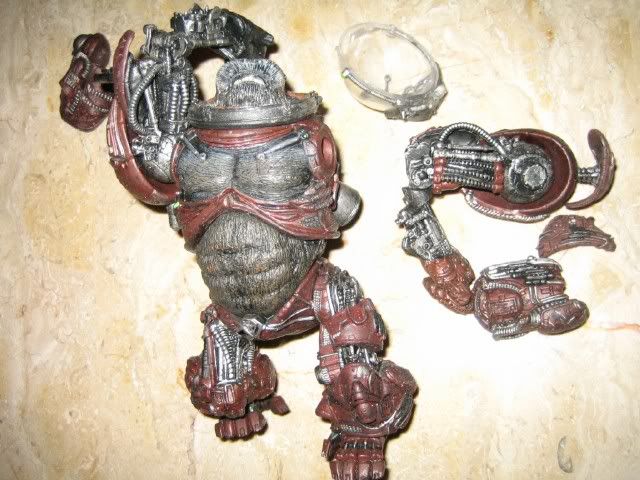 Casualty # 1 - Broken shoulder pad, arm and head globe.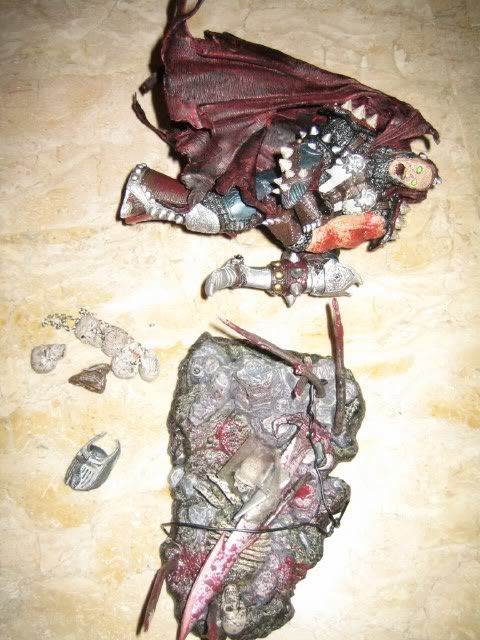 Casualty # 2 - Bits and pieces... as well as long staff in subsequent photos.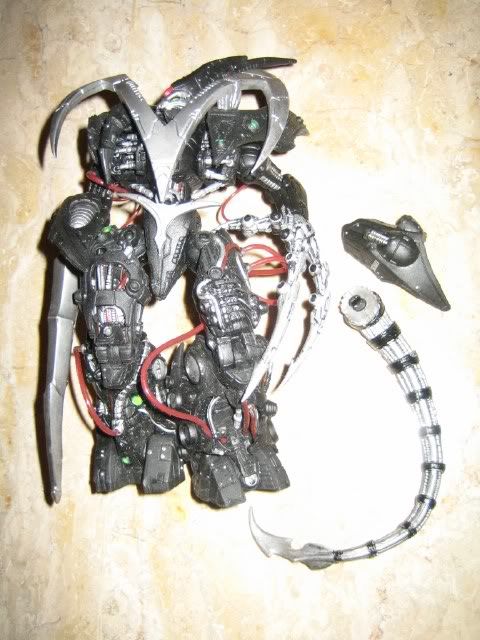 Casualty # 3 - Broken tail and armor.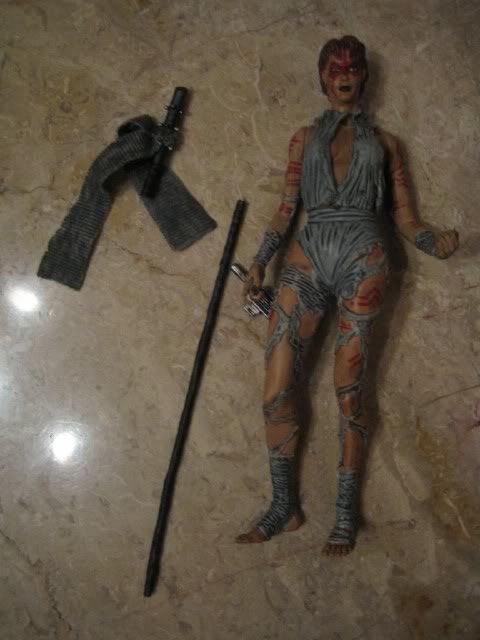 Casualty # 4 - the broken staff is from casualty # 2.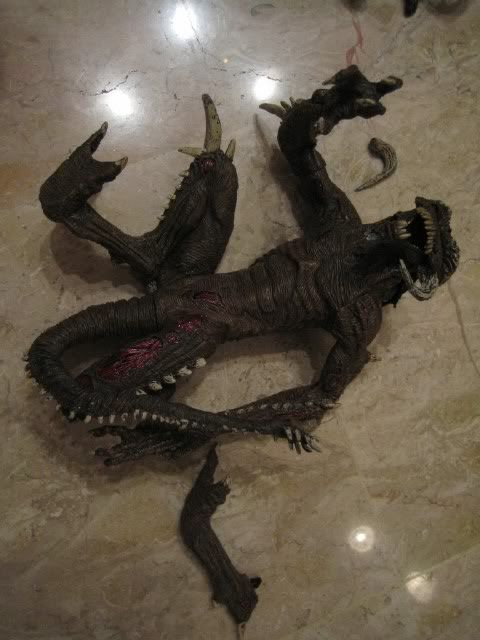 Casualty # 5 - Broken leg and tusk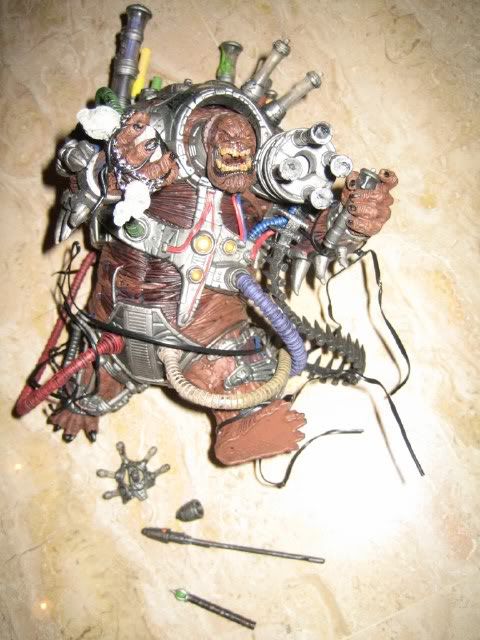 Casualty # 6 - Bits and pieces
This seller is the worst possible packer or shipper one could ever have dealt with. I have disputed the transactions in paypal and ebay and yet to receive any resolution. (as of 28th September 2005)